As one who offers franchise opportunities, typically the first question asked by interested people is how much does it cost to become a franchisee and what does this include? To answer this question it needs to be understood that a franchise is a system—usually including proprietary methods, training, a brand name and support from experts—for operating a proven business concept.
With franchising, no matter what your initial buy-in is, you should be able to make money. The franchise cost of entry and how fast you reach an ROI, greatly depends on what franchise you choose, what you can afford and the ongoing cost for operating the business. But where the initial investment money goes is similar for most franchises.
Below are the main initial costs:
Franchise Fee- This is what must be paid to become part of the franchise system. It is for the tried and true business concept, the expertise of the franchisor and the chance to become part of a money-making opportunity. This fee can run from a few thousand dollars to more than $100,000 for greater opportunities of revenue and for the higher end, well known franchises. It usually includes the rights to use proprietary materials and systems as well as the cost of training, initial marketing packages, software and website access.
The franchise fee also can be based on the size of the territory (population) that you will service and how much support will be provided by the franchisor. For example, the iSold It franchisor offers both an at-home and a brick and mortar location franchise system. The franchise fees are different due to territories defined and training.
Build Out and/or Business Set-Up Expenses- These are expenses needed to make any modifications to the physical space to conform to the franchise standards. They include equipment, software (if needed), branding décor, sales materials, supplies, freight to deliver items, training, and other expenses the franchisor might incur to set-up your business.
For example, if you are opening a retail business, it would be flooring, cabinets, counters, sales inventory, equipment, signage, etc. It also includes construction costs, fees for any local licenses and materials needed to bring the store up to standard.
For a home based business it typically includes equipment needed to market and sell things, products, business supplies, and branding materials (whether online or printed). Typically, the franchisor is heavily involved in assisting you in this important process.
Liquidity or Operating Reserve- It will take some time before the franchise turns a profit so franchisors usually require new franchises to have cash-on-hand to take them through that period. This could be needed for as little as six months to over a year. It is the money needed to keep the business going until you pass a breakeven point. This is the financial number, often called fixed cost of the business, that you need to "keep the doors open" whether or not one sale is made.
Once you become a franchisee, your franchisor should spend time with you determining exactly what your breakeven point is. He should also help you plan several years out about how much sales revenue will come to you as wages or profit distribution.
These categories of cost, called Total Initial Investment, are the amount you should expect to invest in the new franchise. Every franchisor is required by the Federal Trade Commission to accurately report the Total Initial Investment to people considering purchase of the franchise in their Franchise Disclosure Document [FDD] and in any advertising stating the initial cost.
Example: Postal Connections Initial Investment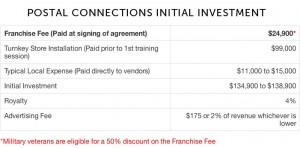 Click on this chart to enlarge it
But there is another potential expense for start-up not part of the initial investment that we encourage every franchise prospect to consider:
Professional Costs- In making a life-changing purchase like buying a franchise, you may want to hire an attorney to help you make a sound decision. The attorney will review all of the franchise documents to make sure they comply with local and state laws as well as to ensure you understand the franchisor's and your obligations stated in the language of the franchise agreement.
If you need to set up a corporation and need help setting up your books, you may need to hire an accountant also.
Hire professionals who are familiar with the way franchises work.

Obviously, it's important to understand what you will initially pay out and be comfortable about where that money is going and how it will come back to you with a profit. Never be too embarrassed to ask as many questions as it takes for you to fully understand what you're paying for.