Commonly, the main group of individuals interested in buying franchises has been those on the "bridge to retirement," as I like to call it.
The "bridge to retirement" refers to those who have had a successful career in their established industry, and are now looking for the opportunity to be their own boss and establish a new source of income. This franchise ownership will carry them into retirement and could be an excellent opportunity to provide their family with an existing business.
However, in recent years, a new group has emerged in the franchise ownership space: Millennials. Gen Y, or Millennials, are the generation made up of those today who are between the ages of 25 and 40. Many Millennial-aged professionals are choosing to take control of their personal and professional futures by grabbing hold of the opportunity to enter entrepreneurship. Only now, more and more are choosing to do it in franchising, mainly because of the level of support and the proven business model that comes with a franchise. It almost could be considered entrepreneurship with a parachute.
---
Business, especially franchising, must deal with the most powerful force known-to-man: Aging. The latest statistics reveal the obvious that "the two generations following the Baby Boomers are larger and growing faster than Boomers who are aging out," according to the Pew Research Center.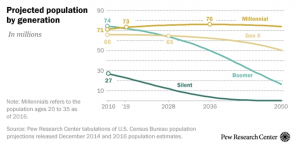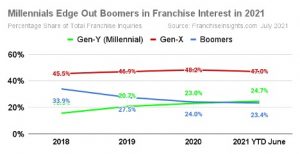 As reported by FranchiseInsights.com: July 21, 2021 – For the first time in history, more Millennials are seeking franchise ownership than Baby Boomers. While Generation X, has shown the greatest share of franchise interest for some years, that share may have peaked in 2020 at 48.2%, based on year-to-date data in 2021 through June.
The Gen-Y or Millennial cohort (ages 25-40 in 2021) is growing rapidly in share, and now makes up the second largest generation of future franchise owners at 24.7%, edging out Baby Boomers at 23.4% of franchise inquiries.
So, what does all this mean? See the last discussion in Franchise Fred below. Millennials are interested in many things at home and work that have not been the priorities of the Baby Boomer (ages 57-75 in 2021) and the Gen X cohort (ages 41-56 in 2021). Technology, environment, personalized service and meaningful work come to mind as top priority among Millennials. Franchises that embrace these aspects of human endeavors and business interests will fine the greatest appeal.
---
Millennials now represent nearly 20% of new franchise owners, otherwise known as franchisees. Plus, that number is increasing in part because this age group brings a lot to the table. Their skillset often works hand-in-hand with owning and operating a franchise business.
Some of the talents commonly found in Millennials include:
Increased collaboration
Enhanced problem solving
Interest in self-improvement
Competent communication
Let's explore some of the main reasons why Millennials are a great fit for franchising.
Strong knowledge of technology
Technology and computers are as natural to this generation as walking. Millennials are the first generation to have been raised in a highly tech-advanced culture. The ease with which they absorb new technology makes them skilled for franchise business management, which is a challenge to older franchise prospects.
Millennials fully embrace digital life by not only purchasing technology but also consuming technology in their daily lives. To stay up to date with the latest trends and consumer behaviors, almost all businesses are now building platforms and digital tools, which boost their effectiveness. These tools, such as mobile applications, can embrace the franchise owner and customer needs and expectations.
In 2021, the integration of technology into businesses is a must. As an example, we have invested heavily in advancements for our franchise, Postal Connections/iSOLD It®, and now consider our concept to be at the leading edge of the business services franchise category. New service centers are equipped with digital menu boards for ease of customer service, websites configured to download files and online ordering and as well as eBay technology, such as Quicklist™ for iSOLD It services, is being implemented.
Purpose
It's a common misconception that this generation is lazy and unmotivated. Rather it's quite the opposite. Millennials are just motivated differently than previous generations, and we have to take that into account as they pursue franchise investments. According to a 2018 study, Millennials want to spend their time doing work that has a positive impact on others.
Millennials seek purpose in their lives and their careers. Many are naturally inquisitive and eager to learn from others, making them great candidates for franchising. The best type of franchises for Millennials are those with strong missions that give back to their communities to tie into a greater purpose. At Postal Connections, we start when our candidate joins up as a franchisee with explaining what our operating values—service that is trustworthy, friendly, savvy and leading edge—means to business activities and treatment of customers.
Schedule
Being tied to a desk and a specific schedule is often viewed as an ancient practice for Millennials. Online meetings, classes, and smartphones have made it easier to be efficient and flexible with scheduling. It has been found that companies that offer flexible scheduling are much more successful than those with the standard 9 to 5 schedule. When you can "be your boss" you can have the flexibility that you would like. Owning your own business and making time for family or other commitments when needed creates freedom and control. Franchises that offer business models with flexible operating standards, instead of regimented and mandatory requirements offer Millennials a place to apply entrepreneurial creativity to advance the business.
One of Postal Connections' newest franchisees, a Millennial, Lee Kennedy in Bend, Oregon, has found a great path with opening his first Postal Connections franchise. He has chosen to operate the business with help from his family – a selection he made strategically as a way to incorporate those he loves into the business for now and future generations. His strong desire to learn and grow within his business and the community is proving to be an asset.
"I have been impressed by the Postal Connections franchise model since day one and have witnessed firsthand how a business service center with time-saving, personalized services will meet the needs of residents here in my Bend community," said Lee Kennedy.
As Millennials begin to lead us from the office life and launch their careers to new entrepreneurial models through franchising, we can learn a lot from them. Careers are moving away from what we once knew, and begin to incorporate more technology, purpose and flexible scheduling of work, we look ahead to new, successful models of franchising. Franchises that accommodate savvy customer needing support working in with online commercial and customized service solutions.  The future of franchising is expanding beyond the traditional "bridge to retirement" goals, but is a refreshing direction to launch careers as "budding entrepreneurs" for a new generation of individuals becoming their own boss.