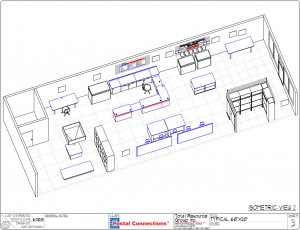 As part of my role as franchisor, I get to become involved with the start-up process. I spend a great deal of time with our PCA (Postal Connections of America) franchisees doing just that. It allows me to contribute to the success of the store, it supports the franchisee and keeps me connected to the pulse of the business community.
And nothing is more rewarding than discovering a suitable franchise location for one of our PCA stores.
Northwest Wilmington
As part of this process, I go out with our franchisee and look for locations that would have a steady flow of traffic and is affordable. Recently, I went to Wilmington, Delaware and met with our franchisee to scout three finalist sites for a PCA store. Historical Wilmington is the largest city in the state with a population of about 70,000. It is the thriving home of several credit card, banks, insurance and financial services firms.
We focused on sites in the Northwest sector of the city where DuPont (the world-class science and engineering conglomerate) has been since 1802.
Four Franchise Location Must-Haves
Four site features we look for include:
Square Footage- Around 1200 square feet is generally optimal and anywhere from 850 to 1,500 can work.
Rent- This is generally the biggest piece of the fixed cost for the business. It's very important to keep this at levels our experience tells us is right for making profit. The monthly rent always includes the landlord's expenses called triple net which includes net real estate taxes, net building insurance and net common area maintenance prorated with the other tenants plus your rent.
Traffic Flow- We determine how much traffic passes the site each day. Importantly, the traffic must have good visibility of the site or signage and easy access and egress to the site. For example, a Starbucks in the area might generate a considerable amount of traffic as might a popular strip mall with a grocery store magnet or well-travelled road.
Signage- The location needs to be friendly to allowing good signage so our stores can be easily found by consumers and business people.
The Final Analysis
After we narrowed down three sites that met the four requirements, it became a matter of analyzing all of the facts we had. They included demographics, traffic flow patterns, visual observations of signage in the area, a call to the city authorities to determine any restrictions, how the square footage and layout work for our store and of course, the rent.
All of those factors have to be aligned for the location to do its job in generating a store profit, which is what this is all about. Our more than 20 years of experience enables us to recognize rather quickly when a site will work.
Scouting franchise locations is an exciting challenge which I love. Soon we'll be finalizing a space lease in Wilmington, Delaware!