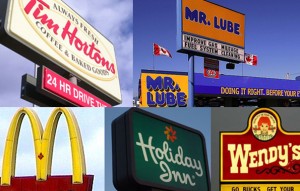 Franchising is a uniquely American business model. In fact, the entire idea of selling a proven business formula to others with support over a period of years in return for royalties became popular in the US just after WWII. Since then, franchises have grown to account for a third of the businesses in the US There isn't a small town or busy city street that doesn't have a store or service truck operated by a franchisee.
An important factor in considering a franchise is deciding if you prefer a big or small franchise system.
Big Franchise Chains
These well-known organizations offer brand recognition that brings people to the business whether online, on the phone or on the street. You pay for the brand recognition in the initial investment as well as to an ongoing fund to continue promotion of the awareness and good image of the company. For example, some of them can cost as much as $500k for the total initial investment and up to 8.5% of your monthly sales.
Also, as a franchisee, you will work with staff operations, business development or marketing departments of these franchisors. Programs are sophisticated and typically originate and are directed from headquarters. Individual face-to-face attention is emphasized less and implementation of standardized programs are the most common solutions to business challenges.
Smaller Franchise Chains
Choosing a lesser known franchise brand, usually smaller but with a proven business model, are ideal for people who have fewer capital resources, seek flexibility in operating the business, and are prepared to do much of the marketing effort locally. The initial investment is less and the ongoing marketing cost, usually, is less. Initial costs may be as little as a few thousand dollars and ongoing royalties are generally low.
Points to Ponder
To help you decide what size & brand development fits your goals, here are three things to consider:
Be sure the franchisor is committed to be in business with you. This means the franchisor is "with you" as you set up the business. He thoroughly explains the business formula so you understand the financial model, the best sites to look for and how to work with vendors. Check to see if he can be reached in a timely fashion. Will he come to visit you when needed? Does he demonstrate understanding of your business goals and will he help you achieve them?
Be sure to know what resources are available to you through your franchisor. This includes working with you on a step by step basis in organizing the necessary opening resources needed to open your store.

Find out if your franchisor has a non-fiduciary relationship with any funding sources he might be recommending. Check out how the training program is run including the franchisor's commitment to it.
Whether the franchise is large or small, make sure the business model is proven. That's what you're paying for. It's supposed to have all of the bugs worked out of it and be ready to generate a profit assuming you put in the required effort.
One thing that cannot be discounted is how you feel after you meet with the franchisor. Are you getting a good vibe? No matter which route you take, a large or small franchise business, it has to feel right.
(Image from the William Rosenberg International Center of Franchising: guides.business.library.edu)