Periodically, the International Franchise Association Educational Foundation publishes a study developed by PwC that measures the contributions of franchising to the US economy.  The key economics measured in the study were jobs, payroll output and GDP establishments. It's exhaustive research that even presents the impact on a state by state basis.
Following are some of the findings from that study (2007 data, the latest data available):
More than 828,000 establishments operated out of US franchise systems. They produced the following:
 9.1 million jobs
$304.4 billion in payroll
$802.2 billion of economic output
$468.5 billion to the GDP
In addition, franchised businesses were 2.8% of all non-farm business establishments and their output contributed to 3.4% of the total US GDP.
Job Data
Franchising is a prolific employer. This is how jobs generated by franchising stack up compared to other sectors of the economy:
Durable goods manufacturing 9,171,500
Franchised businesses 9,125,700
Financial and insurance 8,801,600
Real estate and rental and leasing 7,765,500
Wholesale trade 6,582,600
Transportation and warehousing 5,949,900
Nondurable goods manufacturing 5,300,300
Information 3,556,900
Jobs generated by franchising are number two to durable goods manufacturing.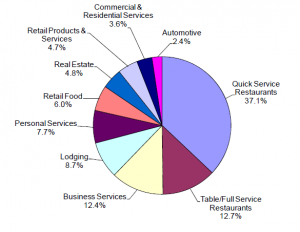 This pie chart from the report that shows how franchising jobs are distributed among the different businesses.
When you break it down by state the number of people employed because of franchised businesses was the greatest in New York, Illinois, Florida, Texas and California. On total jobs in a state, franchising had the greatest impact in Mississippi with 15.8% of Mississippi's private sector jobs related to franchising. In fact, in every state franchising ranked over 10% of private sector jobs except in New York, Rhode Island, Massachusetts and the District of Columbia.
This data underscores the considerable contribution franchising systems make to the US economy. You can read a PDF version of the study at http://www.buildingopportunity.com/download/Part1.pdf.
Fred Morache has spent many years in the franchising business and is currently the managing franchisor partner for iSold It and Postal Connections of America franchises