The last year-and-half has seen rapid changes to commerce and where we work and live. Beyond the much-reported ascendancy of ecommerce and working-at-home, there is strong evidence married couples are seeking new opportunities to be their own boss. They want to participate in the American dream to own their own business, opposed to working for others. Large numbers of married couples are turning to franchises.
Franchising has unique, positive benefits for married couples wanting to control of their careers while building a financial asset. Couples have unique advantages to join a franchise. They combine financial strength, talent, and family support frequently with participating children.
Research from FranchiseInsights.com by Franchise Ventures, a large collection of internet lead-source companies for franchisors, measures and analyzes online franchise candidates who come to them to investigate opportunities.  From January to April 2021, it is revealed that "Nearly two-thirds of prospects [candidates] interested in buying a franchise are married…." "This is significantly higher than the national marriage rate of 55.7% for adults aged 24 and older."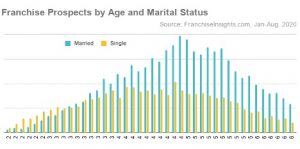 Married couples exploring franchise opportunities, according to FranchiseInsights.com, account for 65.5% of inquiries and are significantly above the national marriage rate of 55.7% of adults 24 and older 
Business is exciting. Not only the financial rewards but also the emotional gratification especially shared by a man and wife team. As an entry-level business model franchising is a good option since you start up with a proven business, something that works. For married couples, the franchise business formula is ready to go and ongoing training and support enables the couple to combine their financial strength and apply different talents while maintaining a household or continuing a separate career or simply keeping either person from becoming exhausted. Plus the old saying about franchising applies: Go into business for yourself, but not by yourself.
From my years in the franchise business here are key ideas for married couples:
Test with discussion what is the most important, 1 goal spouses shared. Before looking into a franchise business, before investigating a formula—e.g., restaurant, senior care, cleaning, plumbing, educational tutoring, etc.—agree on the reason you want to own your own business. This is critical to combining talents and energy as business partners. A few examples:

Make as much money as possible
Build an asset and income bridge to retirement
Create a family business
Gain experience as a business owner while building an asset that can be sold
Have a business near home
Develop a multi-unit business with greater revenue and asset value
---

Investing in franchising by married couples has the career strength and creativity from two entrepreneurs with the multiplier of talent for operating the business. Below are three examples for how this has worked for others.

Couples focused on their shared No.1 goal in choosing a franchise investment. This is demonstrated in a couple's priority to build a family business. The couple bought out of relative's failing franchise and revived it into be a thriving, profitable venture. Combining their talents a commercial airline pilot and housewife-mother concentrated on building a family retail operation, turning the store into one of the national chain's top performing sales units. They achieved a million sales operation in one store. 

But priories grow, just as families do. Now the couple own three franchise stores in southeastern Pennsylvania and employ many local people while their family business served as the nexus for their children to learn how business works, successfully finish college and venturing out on their own.

---
Only after a shared goal, begin investigating franchise concepts that excite both of you. Most important, be sure you agree on the knowledge, talent, and capacity that each spouse will provide to the business. Avoid that one-half effort is excited and the other is lukewarm for a concept. It's too easy when on partner pursues a separate career or the household. Emotional, physical support and financial decisions suffer. A harmonious and cooperating married couple is a powerful business force.
When you land on a franchise concept know the requirements of the business. The franchisor will provide a Federal Trade Commission (FTC) document called the Franchise Disclosure Document (FDD). It is filed annually to certify the details of the franchise business. Both parties should review and discuss what's required what the obligations are and whether you can do what it takes. There should be no verbal promises from the franchisor that are not in the FDD.
Often married couples have different talents that complement each other—one is a savvy user of technology; another is a people-person; one is focused on financial matters while the other is a visionary with creative business solutions; one has a high-level physical drive while the other is less so, etc. The best part, is unless the couple are newly-weds, a married couple should know each other.
---
An entrepreneurial couple's shared goal was to diversify their agricultural, seasonal business in their Oregon smalltown. They invested in a mail, pack & ship service franchise opening "…where everybody knows your name." Both husband & wife are savvy customer service and marketing experts sharing owner-operator duties in-store while the partner switches off to manage other outside priorities. The wife contributes her talent gained from advertising experience. The husband adds a sharp eye for new sales opportunities introducing new services and products that attracts customers.
In their 18th year as Franchisees, the couple's harmony and talents have consistently made their hometown franchise store a success while continuing a successful second unrelated mail-order business.
---
Funding is always a key issue, especially for married couples, are there more than themselves to consider. Do you lead a family unit with kids or parents? The household budget needs to be kept in place at greater or lesser levels. It will affect funding a franchise. The FDD gives you a range a range for initial investment. You have the advantage of combining incomes and investments. Currently, SBA backed loans are offering favorable funding terms and low interest rates. Typically, these loans require 20% to 30% down of the total loan and a logical business plan. Experience in the business is a big plus. Be sure to consider in your loan application two key expenses that often are overlooked

Household expenses projected for the next year. Which spouse can cover this with separate employment until the business is making money? Or perhaps a household reserve set up by adding to the loan debt?
A business operating reserve is always needed for a new business. It's rare to open a business and have salary or profit to support operations with labor cost, maintenance and repair, marketing and advertising cost, etc. The best way to get an answer for how long is phone calls to current franchisees and ask "how long?"
---
A married couple's shared commitment started with building an asset bridge to retirement. They brought savvy and unbending enthusiasm to their franchise investment following a lay off due to a corporate failure. The couple's partnership has been supported a two-track career strategy with the wife as an employee of a private educational system and the husband develops a new franchise business that is the asset that can be increased and cashed in when the times comes.

Located in Boise ID, the mail, pack & ship service center has had one of the fastest new store revenue climbs and continues in 2021 on a rapid pace with 6-month 2021 sales 75% higher than first half 2020. The wife continues to bring home stable employment and benefits; while the husband succeeds in being his own boss. He brings retail and sales experience to his operation; and keenly understands how personalized customer service is key to loyalty where a population relies on ecommerce yet starved for face-to-face service attention when needed.
---
An important aspect of choosing a franchise is how well will you get along with the franchisor. My company, Postal Connections®, a mail, packaging, shipping & business services retail service center arranges a personal, face-to-face meeting with one of the owners and the candidates where they live. We asked that both spouses attend. It's important to know each other as persons before an Agreement is signed. This is not a howdy visit, but a meeting for a day or more to discuss goals, remaining Agreement questions, business practices, obligations, etc. There are many ways franchises do this personal introduction: discovery days at HQ, phone conversations, regional meetings with representatives, etc. Because a franchise relationship is for several years, it is important to know each other. The confidence of both spouses that commitments and support will be there and when you pick up the phone there already is some understanding for why you called.